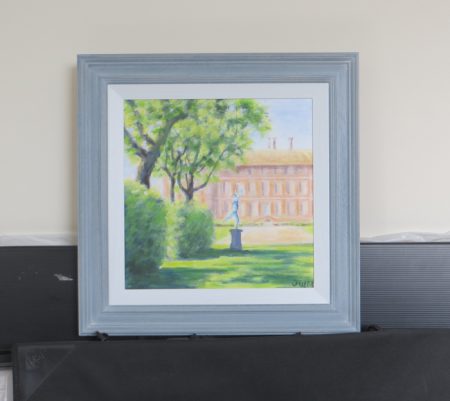 I've had my Ham House painting framed now. I thought a traditional style of frame would suit the historic subject. In fact it's the fascinating history of the house that first inspired me to paint it. According to information on the National Trust website:-
'Originally built in 1610, Ham House is the creation of an enterprising courtier, William Murray, and his tenacious daughter Elizabeth. As a boy, William was educated with the young Charles I, taking the role of his whipping boy. Remaining friends as adults, they shared a taste for the latest fashions in architecture, art and interior decoration. William was given the lease of Ham House and its estate as a gift from the King in 1626.
William's eldest daughter Elizabeth was able to steer Ham through Cromwell's rule by establishing good relations with the Protector. When Charles II was restored to power in 1660, Ham once again became a place for entertaining and extravagance.
In 1672, aged 46, Elizabeth married for the second time, this time to the affluent Duke of Lauderdale. He was a key member of King Charles' inner cabinet. Sharing a love of power and decadence, together they made a dynamic Restoration court couple. They transformed Ham House into one of the grandest Stuart houses in England.
Changing little after Elizabeth's death, Ham House was home to her descendants from her first marriage within the Tollemache family for nearly 300 years.
With only a few decorative alterations made during the 1740s and 1890s, Ham House passed to the National Trust in 1948. It's a rare survival of 17th-century luxury and taste'.