6th – 7th and 13th -14th June
This year, in addition to the artists studios KAOS have mounted two exhibitions in the centre of Kingston, so there's lots of exciting art in Kingston at the moment!
I'm taking part in the 'Selfie' exhibition in The Art Space above Cass Art, 103 Clarence St, KT1 1QY. This beautifully hung exhibition is of self portraits by the artists taking part in the Open Studios event. So interesting to see the different approaches to a self portrait. I took quite a colourful approach….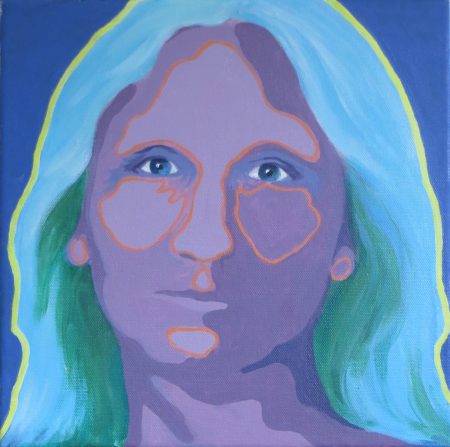 I also have one of my abstracts in the taster exhibition at The Old Post Office, 42 Eden St, KT1 1AA. This exhibition is open from 6th June and all week to the 14th June.
Most of my work is showing at KAOS 5, 13 Haygreen Close, KT2 7TS together with three other great artists – Alison Pugh, Liz Harrington and Ingrid Saag.